Apostilles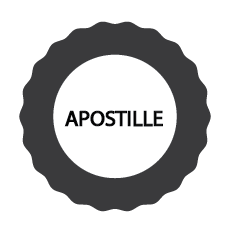 It may be that the institution for which the certified translation is intended requires not only that it be carried out by a sworn translator, but also a so-called apostille to make the translation legally valid. In many cases within the European Union an apostille is no longer required. However, this varies from country to country and from institution to institution, so it is worthwhile to inquire about this in advance with the institution in question. Please note: in some cases, such as education diplomas, medical certificates and documents issued by the tax authorities, another authority will need to legalise the document before you request an apostille.
An apostille is an extra certificate of authenticity that is issued by the court, which first of all establishes the identity of the translator and checks whether the translation meets the formal requirements. For countries that are party to the Apostille Convention, you can go to any court in the Netherlands. Please visit  https://www.government.nl/documents/questions-and-answers/legalising-a-dutch-document-with-an-apostille for more information on apostilles and a list of the countries party to this convention. A different procedure applies to countries that are not party to the Apostille Convention: you will need to have the document legalised by the Consular Service Centre (CDC). Please visit https://www.netherlandsworldwide.nl/living-working/legalisation-of-dutch-documents-for-use-abroad/the-consular-service-centre-cdc for more information on this.
Van Essen Translations advises clients who require an apostille or legalisation to arrange this themselves after receiving the translation. The court fee for an apostille in 2021 is € 21. If desired, Van Essen Translations can also arrange an apostille for you, but in addition to the costs of the translation and the court fee, hours and travel expenses will be charged as well.